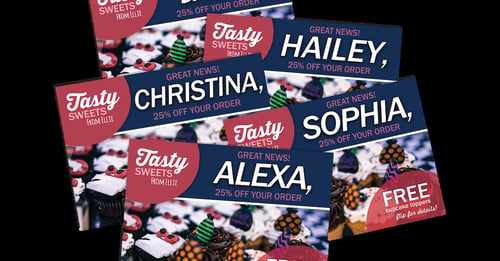 photo credit: Minuteman Press
If you run a print shop, you may have already heard of variable data printing—or may already be offering it. In case you need a refresher, variable data printing (VDP) is a form of digital printing that allows users to customize various elements of their printed material, such as text, images, and graphics, across multiple copies.
Some of the leaders in the VDP market include HP, Canon, and Xerox —all of which are proud partners of SumnerOne.
Why Variable Data Printing is Booming
In 2021, revenues generated in the variable data printing market have reached around $10.5 billion. By 2030, this number is projected to reach about $31.2 billion. That's a compound annual growth rate (CAGR) of 12.9% between 2022 and 2030.
Although South Asia and the Pacific regions are expected to demonstrate strong growth in the VDP market, North America still leads the international market, with a market share of roughly 30.6% in 2022.
At present, VDP is estimated to comprise a whopping 42% of sales in the overall digital printing market. Using barcodes for invoice generation and tracking large volumes of inventory has contributed to the growing demand for variable data printing.
In addition to that, various industries have seen an increased demand for advertising sticker printing for promotional purposes. There's also an increasing demand for printing serialized and customized data on labels, especially in the pharmaceutical, food and beverages, and consumer durable sectors.
The Surprising Impact of COVID-19 on Variable Data Printing
The VDP market is one of the few sectors that boomed during the COVID-19 pandemic.
VDP technology creates products using a system controlled by templates and order entries. These templates are popular among online stores, which rose in both number and popularity during the past three years of the COVID-19 pandemic.
From 2020 to 2022, many businesses began adopting variable data printing software and solutions to support or expand their e-commerce operations. The use of smart labels and tag printers is also steadily increasing due to the growing industrial standards and concerns regarding safety in industries like food and manufacturing.
In the past three years, there has also been a surge in the use of barcodes, QR codes, and sequential numbers for serialization, brand protection, and even anti-counterfeiting. As a result, the VDP market experienced a year-over-year growth of about 10-12% from 2019 to 2021!
How Variable Data Printing Boosts Business
Many businesses can benefit from VDP solutions, especially for direct advertising and marketing purposes. VDP software enables companies to print various tailored content in their materials, such as customer names, addresses, and so on.
In the past, incorporating these personalized elements into printed materials could be very time-consuming using desktop publishing software because each customized copy had to be manually created. Fortunately, various VDP programs now digitally break down the elements of a piece of content, allowing for modifications during the printing process that result in unique data on individual prints.
Companies can also use VDP for warehousing, shipping, distribution, storage, tracking, and other related processes. Variable data may come in the form of variable text, sequential numbers, barcodes, data codes, etc. Thanks to VDP software, printers can run constantly without constantly stopping to make changes, which lowers the run time and costs for both companies and their customers.
VDP machines offer amazing flexibility to print variable data on all sizes of sheets based on each user's needs. They are essential for businesses that print not just barcodes but also product specifications or descriptions, product or package weights, manufacture dates, expiry or best-by dates, and more.
Eager to Benefit from Variable Data Printing?
Adding specialty printing services like VDP to your offerings can unlock new revenue streams for your print shop business.
Variable data printing offers the incredible ability to produce personalized information—a powerful communication and marketing strategy. VDP solutions are time-efficient and cost-effective and can benefit virtually all types of businesses in various stages of their operations.
If you'd like to explore variable data printing solutions for your print shop's business clients, get in touch with us today!