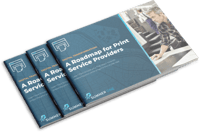 The term "digital transformation" is commonly used, but do you know what it means for your commercial print business?

Digital transformation means using technology to solve problems, and SumnerOne has provided a useful roadmap to get you started.
This eBook provides insights into:
Understanding digital transformation challenges
How to take stock of your current processes
Profitable growth opportunities for PSPs
Download this free eBook today, and start brainstorming innovating ways to delight new and existing customers.