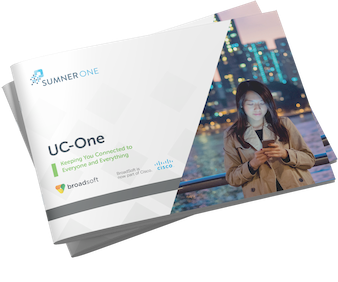 In business, there isn't time for ineffective communication or faulty technology. Changes can happen quickly, and your office needs to stay ahead in the game.
UC-One from Cisco, formerly from Broadsoft, is more than a tool used to improve your office connection. It's an app that will enable your team to work together efficiently using multiple different communication methods.
UC-One offers:
The ability to place and receive calls from a smartphone, tablet or computer without compromising quality.
A simple connection with people inside and outside the office through instant messaging.
The capability to host video conferencing meetings with people from all across the globe and collaborate as if everyone is in the same room.
Multiple mobility features within the app to ensure users never skip a beat when on the go.
Access important content instantly by utilizing the seamless integration with other cloud-based apps.



Transforming the way your business gets in touch isn't the only benefit users will notice from UC-One:

Experience improved collaboration between teams and customers
Overall reduced costs and complexity of use
Enhanced mobility
Greater overall responsiveness and productivity
We spend most of our day workday communicating. So, why not do it right? Download the e-book to learn how UC-One will improve your voice communications.