When we wrapped our last SumnerOne history lesson, we were just about to enter the new millennium. The growth SumnerOne experienced in the 1990's was the driving force behind all of the big changes that the 2000's and 2010's would hold for our company. It's safe to say that we didn't peak when the new millennium rolled around. We were just getting started.
2000's - Managed IT Services and Growing to Kansas City and Columbia
A long time ago, Bud Sumner made it known that our company would not be made a victim of not evolving with technology. The change of the millennium was a time of exploring new options and growth for Sumner Group. In the year 2000, we embraced the direction technology and businesses were headed and started offering IT services. Technology was changing, the internet was growing, and so were the needs of our customers. As a result, SumnerOne continued to evolve alongside them.
It was also time for us to do some growing outside of the St. Louis market, and that's what we did. In 2001, we expanded across the state and Datamax of Kansas City was established as a Sumner Group company. This expansion bridged the gap between St. Louis and Kansas City and allowed us to begin serving even more businesses and areas. Growing our SumnerOne family has been a huge part of what has made us successful over the years and our family in Kansas City does a fantastic job of helping area businesses and their local community.
Once we were firmly established in the Greater KC region, it was time to take on the middle of the state. In 2009, Image Technologies and Datamax Columbia both became Sumner Group companies, closing the gap between St Louis and Kansas City. Together, these two businesses came together under the Image Technologies banner and have continued to serve Columbia and the surrounding areas.
The 2000's were big for SumnerOne. Our leadership understood that in order to keep up with the changes, we had to keep growing alongside the needs of our customers by adding Managed IT Services to our portfolio. Thankfully, this understanding helped to fuel our growth during this decade as we entered not one, but two new markets.
2010's - Welcome to SumnerOne and The Next Generation
With the growth of the digital age came the goal of ridding modern businesses of lost productivity and time using the new tools that came with advances in technology. So in 2010, we began offering Electronic Content Management as a solution to eliminate the need for traditional paper filing, freeing up not only physical space but saving clients valuable time searching for documents. This great service has helped many of our clients add the seamless process of electronic document sharing and digital storage to their everyday tool kit to help get the job done.
After almost a decade in the Kansas City market, SumnerOne welcomed Unisource Document Products (UDP) to the SumnerOne family in 2011. UDP had served the Kansas City region since the 1980's and only further enhanced our ability to serve the KC market. Datamax and UDP continued to serve the Greater Kansas City area under their original banners until our next big change that was just around the corner.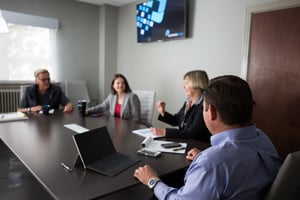 Without a doubt, 2017 was a year that will forever go down as one of the biggest in the history of our company. Sumner Group, Inc. which had served the Midwest for over thirty years was rebranded as SumnerOne. Our rebrand to SumnerOne included a new name, logo, colors, website, and more. At the same time, we began the process of rebranding our legacy divisions: Copying Concepts, Datamax, Image Technologies and UDP to introduce our clients to our new name. This fresh new look helped us to embrace a new era and to welcome the next generation of Sumner leadership. In 2016 and 2017, two of Ed Sumner's children, Edmund and Liz, became the active managing directors of SumnerOne! Under their leadership, we also acquired three additional companies across the Midwest. We welcomed Corporate Business Systems, Western Imaging, and KKOS Inc. to the SumnerOne fold. Talk about a year of growth! 2017 was definitely one for the books with a new name, the next generation of leadership, and record setting expansion across the Midwest. However, the big years didn't just stop there.
2018 has been a lot like 2017. This year, we've been working tirelessly to unite our companies under the SumnerOne banner. We said goodbye to Copying Concepts, Datamax, and UDP as they had been known for decades, but with a renewed commitment and focus on the communities we serve. The update to becoming SumnerOne was to reinforce the fact that we are one united front serving Midwest businesses with technology and solutions. Along with our new name, we continued to focus on growth and in the spring of 2018, welcomed Drake Systems in Tulsa, Oklahoma into our family of companies. With that, we were essentially bringing our story full circle to where Bud Sumner started as a leader in the office technology business. We were returning to the state where part of our story began when Bud Sumner purchased the A.B. Dick Distributor in Oklahoma City over sixty years ago.
Even though this decade isn't quite over yet, we have big plans to keep the momentum rolling as we get ready to take on 2019. When you've been in business as long as we have, you've seen some big shifts in technology and how business works. We have no doubt that the decades to come will be anything short of exciting and successful! We are committed to staying on the forefront of technology as time continues to change. We started with the mimeograph, made our way to printers, embraced managed services, and only time will tell what is coming next!
Bud Sumner's Legacy Continues
Our history as a company truly reads like a story. It's the story of how one man's determination and vision grew into the largest family-owned office technology company in the Midwest. Through all the changes and transitions we've encountered over the decades, one thing is certain, we have never been content to stand still and let time pass us by. We will continue to honor Bud's legacy by evolving with technology and changes in our services and offerings will continue to reflect that. Our goal is to be the one place where everything works, and staying ahead of trends in technology has been one way that we will continue to achieve that. As a company with a history that has spanned over sixty years and three generations, we have no plans of slowing down. We are just getting started.
If you would like to learn more about how SumnerOne will work with your business to achieve efficiency through technology and services, give us a call.