While it may not be the most glamorous title to win, it does come with a few really great perks! For the past two months, SumnerOne has been searching the Kansas City area for "the worst" copier. In total, we heard from 28 organizations begging for the chance to not only win a brand new Canon MFP but the chance to celebrate their win by dropping their old hunk of junk from a 110 ft. tall crane at Union Station. In addition, SumnerOne will provide service and supplies for two years at no cost eliminating at least one headache for our lucky winner.
We had our work cut out for us but in the end, we fell for this entry from Teresa Hamilton of Giving the Basics:
For whatever the reason, his heart or his shoes, he sits in our cave and loves making us blue. The Grinch he shreds paper, he hiccups he burps, he smears all our ink and can be such a big jerk. His printing is blurry, he can't scan a thing. His noise is so loud we can't hear our phones ring. Right when you need him, he will not turn on. And then without any notice all his toner is gone. His heart is so tiny, his strength is so small. We need the mean Grinch to take a big fall. And after his fall what we need him to do.......rise with the strength of "ten Printers, plus two!" We all will hold hands and sing a sweet song and maybe the Grinch will sing right along.
You have to admit, we couldn't overlook a Seussian themed entry!
Who is Giving the Basics?
Giving the Basic is a non-profit organization that provides basic quality of life items not covered under government assistance programs to help those in need. From shampoo and soap to basic cleaning supplies, Giving the Basics is there to support those who may otherwise have to choose between paying a utility bill or purchasing basic personal care items.
Since 2011, Giving the Basics has been a welcomed addition to Kansas City and the surrounding areas supporting 65 local KC organizations as well as an additional 186 area schools. There's no doubt that their impact on the Kansas City community is immeasurable, but we were blown away by the fact that they serve more than 220,000 local citizens each month!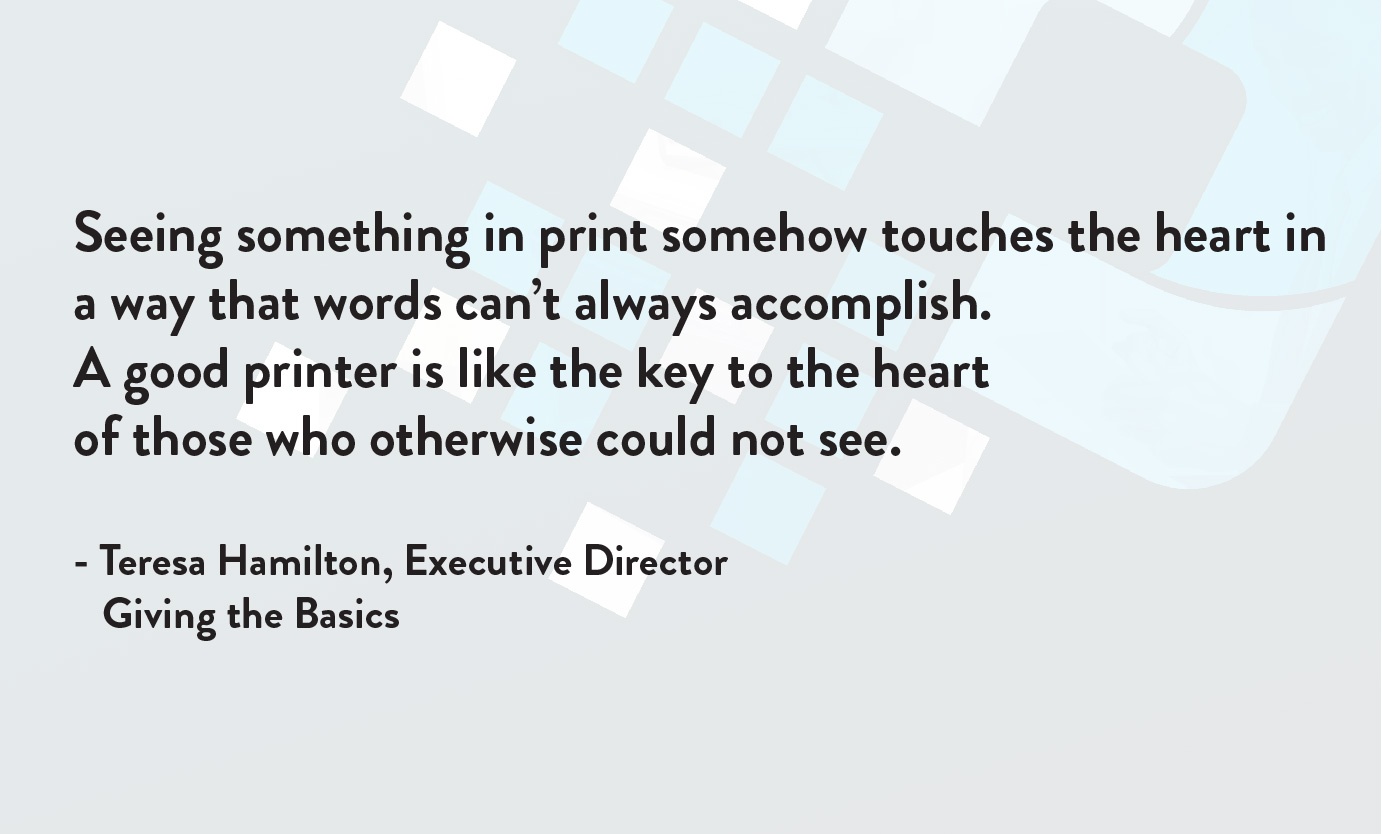 Worst Copier in KC has Heart
One of the many reasons SumnerOne was inspired to host The Worst Copier in KC is to do some good for at least one local business or organization. Something that isn't always evident behind the scenes of any business or non-profit is the basic cost of printing – it really does add up over the course of a year. In other cases, the capabilities of the equipment fall short of the needs of the organization. From color printing to brochure finishing or even large prints to promote events, the cost to outsource print documents is an even greater expense that takes a huge bite out of a budget which in turn takes away from the funds needed to support the community. According to Teresa Hamilton, Giving the Basics Executive Director, "having a new copier would be amazing for Giving the Basics. Every penny we save is a penny we can use for our programs; putting hygiene products into the hands of those in need in the KC Metro."
Teresa went on to say that winning the Worst Copier in KC "a top of the line printer, with ink and service to boot, gives us more time and money to work on what matters most……Providing Personal Care Products for Human Dignity to our precious seniors, our amazing veterans, our beautiful low-income families, our promising students, our battered women and our often forgotten or rejected homeless citizens."
SumnerOne Sales Manager and Event Organizer, Kevin Burgess, shared his excitement over having a wonderful entry like Giving the Basics as this year's winner. "Giving the Basics is such a worthy cause that does so much for the Kansas City area. The crew over at SumnerOne is very excited to give this great organization the technology they deserve in order to get back to doing what they do best."
All of us at SumnerOne couldn't be more proud to support Giving the Basics and we'd love for you to join us as we celebrate their "win" of the Worst! Join us on Friday, September 7, 2018. RSVP for SumnerOne's Technology Showcase or just come hang out during your lunch. The Worst Copier in KC drops at 12:30 pm! We hope to see you there!
Originally published September 5, 2018, updated November 1, 2018