The old saying was right, you get what you pay for. The common saying also rings true when it comes to the latest technologies of our generation. Sometimes you can find a solid alternative to what you're looking for with a better price. Other times, the savings can also mean sacrificing quality and features. Well-known brands and bigger price tags can lend to the assurance of the quality of what you're buying. Technology is one a big area where you truly get what you pay for. Springing for the reputable brand or device can make all the difference in the world. I learned this lesson the hard way, and my hope is that others can learn from my mistake and apply this to future technology purchases.
Buying Off-Brand Technology
I have always wanted an Apple Watch. I understand that in the grand scheme of things that it's quite a reasonable purchase, but also expensive. In an effort to get a Smartwatch that promised to do all things similar to the Apple Watch, I caved. I didn't want to pay the big price tag of the real deal, but I still wanted everything it had to offer.
I went to what I thought was a reputable website, and lo and behold, there was this beautiful watch. The description promised all the same features for only $18 which included shipping and had great reviews. Score! I know that you get what you pay for and knew that it wouldn't be just like an Apple Watch, but I took a chance. The watch did boast other functionalities I was interested in like the ability to track my daily steps, give me call notifications and even let me check my Facebook. I was truly happy with my new purchase and for the price I was able to buy it for.
Experiencing What You Paid For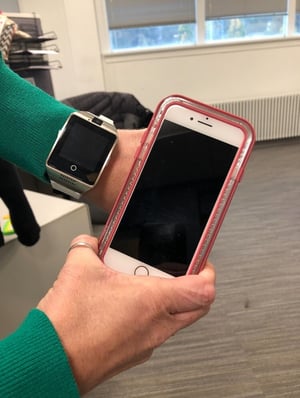 I could hardly contain my excitement the day my package arrived. I should have known right away when I took the box out that there was going to be a problem. The images and promises online of what my new watch was supposed to look like was nothing like the image on the outside of the box. As I opened it, I saw a large atrocious watch that was nearly the size of my iPhone.
Okay, that was dramatic, but it was still really big and looked nothing like what I ordered. I decided to let this go because it promised to at least allow me to do the basic functions I wanted. After about a minute, it became clear that it was not going to let me do anything. The time and settings were in another language and none of the applications worked. The watch began indicating that I needed a sim card to use any of the functions. The step counter was a "start" and "stop" button that when pressed just started counting steps that I wasn't even taking.
All the things I was so excited for came crashing down. I sacrificed what I wanted for a cheaper alternative. In the end, the watch didn't work at all and I was stuck with a big hunk of junk. All this purchase did was waste my time and money.
Lessons Learned with Cheap Technology
The lesson I learned from this was that doing extensive research, asking questions, and even springing for the higher ticketed item is the way to go. Another lesson I learned I was able to apply to my professional life. When looking to hire an IT services provider, you shouldn't go with the cheapest option and cross your fingers. Hoping for the best when using a cheaper or inexperienced alternative can damage your business in the long run.
The damage done by not using a reputable IT services provider can be extensive. It's worse than time wasted and being out around twenty dollars like what happened to me. An IT services mishap can cost your business large amounts of money, downtime, hurt your reputation, and compromise the security of your data and people.
The key to finding a reputable IT services provider is much like investing in any other big purchase. Think about the business problems you've encountered that this service could solve, research vendors and read reviews, ask questions, and make an informed decision. Selecting a provider that will offer outstanding services and ensure that the security of your business is top of mind isn't going to come with an off-brand Smartwatch price. Investing in yourself and your business and going for full functionality and peace of mind will come with the Apple Watch price tag, but it will be worth it.
Finding the Right Managed IT Services Provider
Selecting the right Managed IT Services provider is an investment in your business. Hiring a reputable company with proven results and experience is one step closer to properly securing your most valuable assets. There was also a happy ending at the end of my Smartwatch story. My parents took pity on me when it came to the situation and bought me an Apple Watch for Christmas this year. The watch is everything I could have hoped for and more. The moral of the story is that you get what you pay for. This common saying rings true when buying something for yourself or investing in new technologies or services for your business.
The time has come to take the leap when it comes to outsourcing your IT services. If you're interested in learning more about SumnerOne's Managed IT Services options, give us a call. We're ready to show you why making an investment in your business's security will guarantee that you get the most out of what you pay for.