Straight from our Service Gurus at SumnerOne, here are some of the frequently-encountered ways that your printer driver might add to your Printer Mayhem troubles:
1. Windows 10 and your printer don't seem to get along.
One of the hiccups with Windows 10 is printer incompatibility. This can be an issue with older printers: your Operating System is shiny and new, but your printer isn't. Windows will either not recognize your printer (it won't look like it's installed), or all of the functionality that you're used to won't be available, so your formerly able-bodied printer will be sort of handicapped.

If you want Windows to tinker with the problem, you might try the Troubleshooting tool that's part of the Operating System (right click on the Printer in the "Printers and Scanners" dialog box and choose "Troubleshoot".) The astonishment you could feel if a Windows tool actually manages to solve your problem is even better than co-workers throwing you a surprise party and putting your picture on a sheet cake!

What's more likely, though, is that you're going to need to check the manufacturer's website to see if they've released a Windows 10 driver for your model of printer. The manufacturer will tell you which printers they're still supporting, and which they're not. Most manufacturers have released drivers for Windows 10 by now.

Here's a list of common printer manufacturers and their latest Windows support or drivers download page (you'll need to know your model of printer):

If there is no Windows 10 driver available, you can still try to use a driver for an earlier version of Windows. We've had most luck with Windows 8.1.
2. A Window 10 driver is available for your printer, but there's still a missed connection.
When Windows 10 first tried to install your printer, it may have used a "Web Services for Devices" or WSD Port. WSD makes printers that are connected to the network act like "Plug and Play" devices, similar to plugging the printer into your USB port. Windows detects it and tries to install it.
On some networks, this works out just fine, but in others, it can lead to a printer's connection being glitchy. One way to fix this is to uninstall the printer and re-install it by pointing to its IP address directly (installing it in a standard TCP/IP port).
3. Your Windows browser "Edges out" your default driver settings.
One of the biggest problems we see with Windows 10 is printing from the Edge browser. Most of the time, users we support do not even know they are using Edge because the icon looks a whole lot like Internet Explorer. The Internet Explorer icon is on the left and Edge on the right: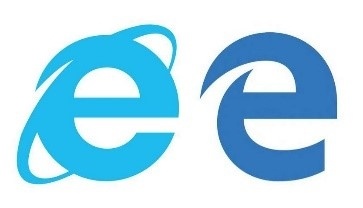 An issue with Edge is that it will automatically open PDFs in itself instead of in Adobe Acrobat and it does not use the installed print driver. The embedded driver that Edge uses won't be as feature-rich as the device-specific driver, so features like using staple, booklet mode, department ID, or Job Accounting mysteriously disappear.
Also, if your IT department has set up the device-specific driver with certain common-sense features, like defaulting to black-and-white printing rather than color, these defaults get over-ridden in Edge and you may wind up with more color prints (at the color $ rate) than necessary.
4. Your software and your printer aren't on speaking terms.
There are a bunch of printer languages out there, like PCL6, PCL5, PS, KX, UFRII. These days, many installations use a "Universal" print driver (from the Operating System or from the manufacturer, i.e. a "Universal PCL6 driver"). These are designed to try to make life easier and cover a broad range of possible printer chit-chat with software programs. But, other times there's a "no hablo yo' print job:" a glitch between what a printer wants to hear and what the software is saying.
Most Universal print drivers use PCL as their go-to standard: the majority of software that's common in a workplace "talks PCL." However, design programs (Adobe software suite, for instance) use the printer language that Adobe created, called Post Script (PS). For example, Microsoft's Universal print driver doesn't support the PostScript (PS) language. Companies like commercial printing companies and design agencies are familiar with needing PostScript-fluent printers, but sometimes a smaller in-house marketing department that's using one of the Adobe or other design products might get frustrated until the PS driver is put into place.
Finally, there are some models of printer out there (like older Canons) that support UFRII but not PCL, so other languages need to be pulled in via a separate license. Good news is that Canon figured out that that wasn't awesome, so all new Canons include the mainstream languages.
5. The driver model's close, but no cigar.
Most office environments have a dedicated print server where drivers are stored centrally. It can happen that the centrally stored driver is nearly right, but not quite right enough. How much difference can there be between a Kyocera CS4501 driver and a Kyocera Taskalfa 4501 driver, right?
A lot! This can be like putting parts for your 1984 Pontiac Trans Am (i.e. KITT without the self-driving capability nor snappy repartee) into your new 2018 Dodge Durango. They might look similar and possibly fit, but that does not mean they will function properly.
To keep it simple, look at the model on the front of the device which should have the exact make, model, and number such as Konica Minolta Bizhub C454, or Canon imageRUNNER Advanced 5550.
Make sure this matches the driver being used as shown in the Advanced tab of the printer properties.
6. Your MFP got a firmware upgrade and now it won't talk to your computer.
MFPs may get their firmware bumped up a notch to add additional bells and whistles and to work with updated security. Firmware upgrades can require an updated print driver to re-setup the users that had the MFP previously installed. When we chatted with our SumnerOne Service Gurus about this problem, they had a similar recommendation:
"Just let us flash the firmware… if there are problems, we will take care of them. We can even take care of the little deskjet-type MFPs with our PrintCare contracts so they don't have to worry about it."
[So, we weren't even asking our Gurus for a marketing pitch, but boy did they come through! We got the sense that firmware updates are best left to the guys that do them all the time...]
7. Spool, spool, spool… go away for a coffee break, come back… aaaand the print job's still spooling. Then crashes.
Some print jobs can be mighty fat on data, chew up network traffic, and crash a printer spooler. The working components of print driver, print spooler, languages and everything else involved can be all simpatico, but too many mega-giga-googa-bytes of, say, high-resolution graphics, can bring an office printing works to its knees.
Microsoft applications and other programs print multiple copies of a print job by sending the data across the network for every copy. If you're printing a large document – say, 500 pages – it will send the job 500 times. All your colleagues who are trying to print something will give you the evil eye as they take their coffee breaks and wait out their print jobs. (No sheet cake for you!)
It can be helpful to break up a large job by printing one hundred pages at a time, or printing ONE set to the MFP's onboard memory. This is called a "user box" (on Konica Minolta machines), a "document box" (on Kyocera), or a "mailbox" (on Canon). Then you can go to the MFP itself, point to the "uploaded" job and tell it to print 500 sets. This will be a big help to network traffic.
But hefty jobs are not the only things that can crash a print spooler. It can happen that your print spooler gets to be as sensitive as a romaine lettuce leaf wilting in the sun and crash repeatedly. You might see an error in Windows like "The print spooler service is not running". This handy walkthrough will help you troubleshoot the print spooler, all the way up to un-installing and re-installing the printer. [We are not recommending the software utility pitched at the end, but it's a solid tutorial up to their self-promotion.]
But, this post is about print driver mayhem, and they can unfortunately be the culprit in some spooler crashes. Similar to the steps above, the best approach is to uninstall the printer, delete the existing saved drivers and spooler files, download the latest-greatest driver from the manufacturer's website, and reinstall by pointing to the brand-new driver.
The Printing Experts at SumnerOne
If any of this amounts to too much Printer Mayhem for one day, or if you feel uncomfortable tackling any of this on your own, reach out to us!
Call our service line or log a ticket on our site and we can even walk you through it remotely. We're ready to fix the problem together.
Originally published August 26, 2017, updated April 18, 2019