For the past 29 years, Konica Minolta has been awarding businesses with their Pro-Tech Service Award. This honor is awarded to their dealers that are committed to providing outstanding customer service and focus on maintaining Konica Minolta products to their optimal performance. In 2017, both SumnerOne St. Louis and Kansas City were awarded the Pro-Tech Service Award. SumnerOne has been the only dealer in Missouri to be selected for the 24th year in a row.
To be recognized as a Pro-Tech partner, dealerships must align with Konica Minolta standards in delivering exceptional customer service and support when dealing with their equipment. When a company has been awarded as a Pro-Tech partner, you can count on them to provide you with their best effort, every day of the year. These dealers offer the best benefits of enhanced technical and management skills, including:
Professional, customer-oriented service
Response times that are significantly better than the industry average
Preventive maintenance programs that ensure maximum uptime and superior performance
Inventory control systems that provide immediate access to replacement parts and components
Extensive training programs and performance reviews to maintain the highest level of expertise
Skilled technical specialists and service personnel trained on your specific Konica Minolta products
The goals of the Pro-Tech program closely align with the everyday goals of SumnerOne. Being a Pro-Tech partner further supports our goal of creating "Raving Fans" through consistently providing a premier service experience to each customer. Maintaining the high standards necessary to achieve the Pro-Tech award are a part of our ongoing efforts toward ensuring that all Service Team Members are: well trained and prepared to deliver Premier Service; and that our processes and practices are designed and executed in a caring, "Customer First" manner.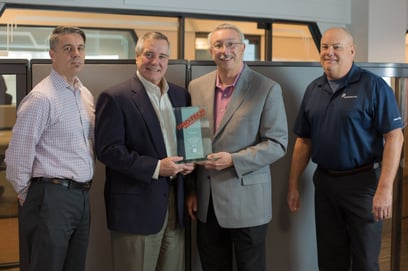 At SumnerOne, we are a company dedicated to providing our customers with excellent service. Whether you are needing help with a question about your machine or need a part replaced, the SumnerOne service team will be there to guide you through from start to finish. Our goal is to be your one-stop shop for everything you need to maximize the efficiencies of your business. Attaining the Pro-Tech Service Award for the 24th year is indeed an honor. We promise that as long as the outcomes of the program continue to yield benefits for our customers, we will continue striving to achieve Pro-Tech level standards.
SumnerOne is ready to help your business, whether you are in the market for a new printer or new solutions for Managed IT Services, our crew of trained service professionals have you covered. To learn more about SumnerOne, our offerings, and our commitment to customer service, give us a call.
Originally published March 7, 2018, updated August 13, 2018