Success in today's commercial print industry requires businesses to rise to the occasion and deliver a broad spectrum of services to their customers, or they'll be left behind.
The market for digital print production is expected to grow by a compound annual growth rate of 5.76 percent between 2019 and 2026, which will have implications on the market for traditional offset printing. As printers, you need to stay on top of the latest strategies and solutions while remaining agile and efficient. To make things easier, we've combined all of the insights you need into one comprehensive report.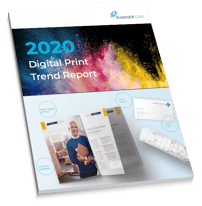 In The 2020 Digital Print Trend Report, you will learn:
Actionable ways to diversify your print service offerings
Important statistics related to the rise of digital printing
Innovative design trends for 2020 that will set you apart
Simply fill out the form to access these insights today!